Goodbye, inbox. Hello, mailbox.
A properly run direct mail program with a strong call to action is a great way to advertise. Minuteman Press: Columbus has the equipment and experience necessary to help your mailing project succeed. Whether you want to reach a precise group or a specific territory, we have the data resources to handle it. If you have a mailing list, we can incorporate it into a mailing piece for you. We use postal-approved software to cost-effectively mail your materials. And if you want to kick it up a notch, you can customize your direct mail pieces for each individual with variable data printing.
To get a quote or upload a file, please fill out the form.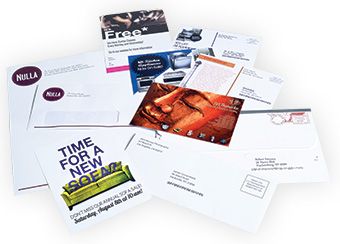 Every Door Direct Mail
Every Door Direct Mail, or known as EDDM, is an affordable service provided by the United States Post Office, which allows you send a mail piece to every house on selected routes at the lowest postage rate without purchasing a mailing list or bulk mail permit.
The post office will charge you at least $0.19 per piece (as of January 2020) and you will have to run to at least one if not more post office locations to deliver this. The non-discounted rate is $0.225 each from the post office. Our clients are averaging $0.18 per piece for just the postage. (over the past 5 years)
National number range from 10%-25% ROI. (Return on investment)  Our clients are reporting 20%-35% on average (some much higher)
First-Class
First-class mail is used for postcards, letters, large envelopes, and small packages. First-class mail must weigh 13 ounces or less. Pieces over 13 ounces can be sent as Priority Mail.
USPS first-class delivery is given priority over standard mail, and local mail will typically be delivered in 2-3 days. Nationally, first-class mail should be delivered in about 4 days. First-class mail postage includes forwarding and return services with no additional charge.
Presorted First Class
If you have 500 or more mail pieces, you can choose to presort your mail. Presorted mail costs the USPS less money to process and deliver, resulting in an approximately 20 percent lower postage rate. Standard delivery time is the same as first-class mail. To receive the lower postage rate, the addresses must be grouped by zip code, and be NCOA updated and CASS certified.
Standard Mail
Standard Mail usually consists of flyers, circulars, advertising, newsletters, bulletins, catalogs, or other printed pieces that are generally identical in content.
Standard mail must be less than 16 ounces and must meet a minimum quantity of 200 pieces or 50 pounds of mail.
Standard Mail, also known as "bulk mail", is processed by the USPS on a "time available" basis. Standard mail is not forwarded or returned if undeliverable unless a special endorsement is used. Standard mail will typically be delivered in under 5 business days locally, but nationwide it could take 2 to 3 weeks. Standard Mail should not be used for time-sensitive mail. As with Presorted First-class, to receive the lower postage rate, the addresses must be NCOA updated, CASS certified, and put into presort order.
Standard Mail is the least expensive postage mode, approximately 32 percent less than the price of first class. Standard mail postage rates apply to mail up to 3.3 ounces. Mail heavier than 3.3 ounces will have a small weight surcharge.
Nonprofit Mail
Nonprofit Standard Mail postage is lower than regular prices (up to 70 percent less than first-class mail), but not everyone can qualify. Nonprofit is a favored postage rate within Standard Mail, and is processed in the same way. Organizations wishing to mail at nonprofit Standard Mail prices first must be authorized by the Postal Service as eligible. Get a copy of Form 3624, Application to Mail at Nonprofit Standard Mail Prices. This form is also available from your postmaster or your business mail entry unit.
Let Minuteman Press: Columbus handle all of your mailing needs!